Oil sand projects account for more than half of total production in Canada with 14 future projects expected to come online before 2028, according to GlobalData's Canada Exploration & Production 2021 report, pending government approval.
Free Whitepaper
The 4-Component Models for Slurry Pipeline Friction and Pump Solids Effect
Avoid unexpected hazards and system blockages by accurately modelling your pump and pipelines. When it comes to pumping slurries, there is a huge range of properties to consider. Download this free whitepaper to learn, step-by-step, how to model pump and pipeline…
Yet oil sands projects have particularly high operating costs, in part due to the required blending with lighter hydrocarbons to make the crude flow through pipelines. Exploration and production activities in this sector are also seeing a shift in focus toward adopting technologies to curb greenhouse gas emissions and water consumption. To compete in this complex environment, operators need highly efficient and sustainable equipment. Experience in this specialist field is vital for success.
KSB provides solutions across many sectors, including mining, water, energy, and building and manufacturing sectors. The company has a history spanning 30 years in the Canadian oil sands. KSB is consistently introducing new product solutions, and the latest in an extensive line of innovation is the tailings dewatering pump (TDW), which features a new hydraulic design built on decades of experience and expertise in materials.
Mollie Timmerman, Oil Sands Business Development Manager at GIW Industries, Inc (a KSB company) from Grovetown, Georgia, tells Mining Technology how the TDW can deliver unsurpassed output in the most challenging of applications.
Mining Technology: Can you describe some of the diverse applications for KSB products in the oil sands?
Mollie Timmerman: Our products are utilized for pumping slurries from light-duty recycle water, to the heaviest duty slurries like hydro transport and coarse tailings, and everything in-between for the extraction process (middlings, flotation, various underflow, and overflow applications). GIW has a dedicated pump series (HVF) that is capable of pumping froth in the oil sands, and you'll also find our pumps used on dredges, barges, and diesel skids.
What challenges do operators face in processing oil sands?
MT: One of the biggest challenges is the cost of mining and processing, which directly affects profitability for operators. The infrastructure, water, and energy required to access oil sand, separate bitumen, and produce a barrel of oil is far greater than that for conventional oil. In addition, residual water and sand are deposited into tailings ponds, which are recycled and pumped back to the plant for bitumen production. Remaining solids are dried for reclamation – considered to be complete when the area can sustain wildlife and vegetation.
How does innovative equipment help operators overcome challenges?
MT: Our innovations increase reliability, extend runtime for production, reduce operating costs, and improve ease of maintenance. The oil sands industry is a relationship-based business and GIW works continuously to develop and maintain long-standing, trust-based relationships with our customers. There are five primary areas where GIW can help operators improve efficiency and profitability:
Advancements in hydraulic design, materials, and wear technologies, proven to extend wear life of components, reduce spare parts requirements, eliminate maintenance cycles (or better align with operator's maintenance cycles), and lower total ownership costs
GIW SLYsight provides real-time wear performance monitoring, reducing, or eliminating the need to physically check wear rate of parts, thus saving time and money
Sealing solutions, which reduce dependence upon water, like the expeller – which is the key feature of the TDW pump series
Local service and support from the GIW Fort McMurray Service Centre, including local parts stocking, inventory optimization, remanufacture and rebuild services
Manufacturing expansions to ensure security of supply via three North American-based GIW foundries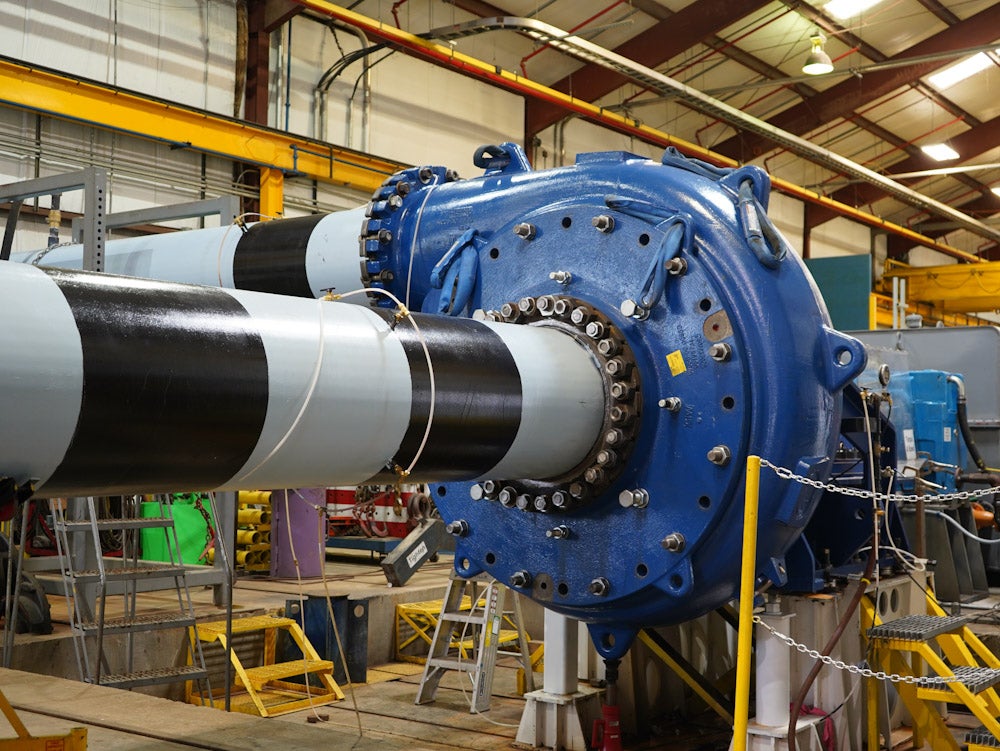 Could you tell us more about how the TDW pump series serves Canadian oil sands applications?
MT: The TDW is a tailor-made design for tailings pond dewatering and is based on the success of the WBC-54 expeller pump. We noticed an increased demand for pumps with waterless seals, or seals that do not require gland water. There was also a need for larger expeller pumps compared to what we had available at the time as a standard product offering (the LCC product range features an expeller as a standard sealing option, up to a 28in impeller). So, the TDW was introduced to provide additional capability and extend the product range beyond the capabilities of the WBC-54. Usually, the TDW is used wherever tailings need to be moved, such as a dredge, barge, or pump skid. The WBC-54 expeller pumps, and TDW pump in progress, are all installed on barges.
What problem is the TDW pump solving for customers?
MT: The TDW provides a wider range of flow capability and is capable of high head operation, without requiring gland seal water for operation by utilizing a proven waterless seal solution like the expeller. The wet end is constructed from GIW's Gasite® – a high-chromium white iron alloy material that provides outstanding resistance to abrasion/erosion, corrosion, and impact. The robust mechanical end is designed for slurry service, which reduces complexity and is easier for service and maintenance. The TDW also features an adjustable suction liner and is capable of being lifted as a single unit. Overall, the TDW is designed to offer a low total cost of ownership by reducing operating costs, requiring less maintenance, and providing a long run time.
What does the future look like for oil sands equipment?
MT: I expect we'll see a continued push to implement new technology and explore new ways to do business. The importance of maximizing value while minimizing cost will continue to be a key focus area. Conducting sustainable business to support future generations is paramount, and GIW will continuously innovate with our customers to make that happen.
Why is sustainability and efficiency important when it comes to processing oil sands?
MT: It is very costly to provide gland water to remote tailings pond locations as it must be trucked into the mine and made available by additional filtering and cleaning processes. Utilizing a proven waterless seal solution like the expeller is highly beneficial, because the TDW does not require gland seal water. It's a big saving for mining operations while providing an environmentally friendly and sustainable solution.